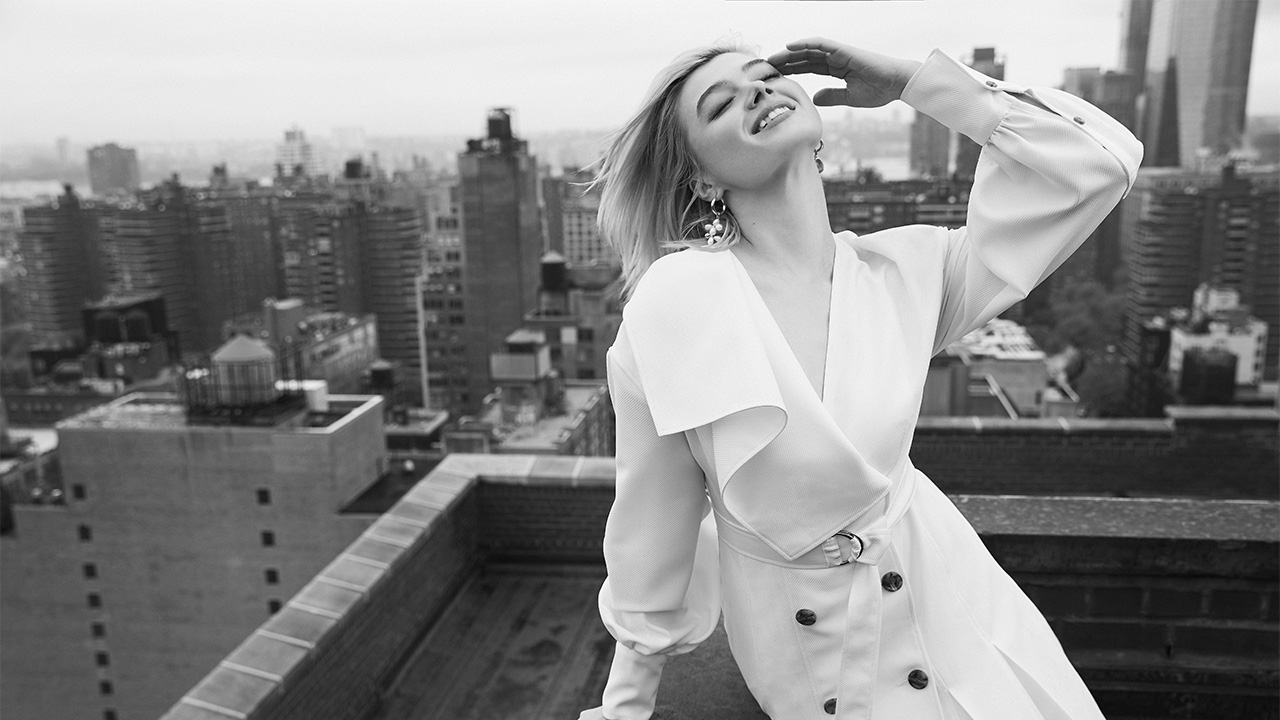 The Business of Fashion Photography
$199
Lara Jade is back with arguably the most comprehensive business and marketing course available to aspiring fashion and commercial photographers.
Included in this Bundle:
What's Included?
11 Hrs, 38 Mins
of comprehensive education centered around business and marketing to grow your sales.
56 Videos
to easily navigate through each module. Watch them in order or skip around!
37 Downloads
of helpful materials to keep you organized and on track with growing your business.
The Business of Fashion Photography
After the success of her first course with the Portrait Masters, The Fashion Series, globally acclaimed fashion photographer, Lara Jade is back with arguably the most comprehensive business and marketing course available to aspiring fashion and commercial photographers. Step into the world of a New York fashion photographer and discover everything that goes into building success in the fashion and commercial industries.
This extensive series takes you through business set-up, pricing your work, licensing and usage, and identifying your potential clients. Master the art of cold-emailing, pitching your work, and getting published. Build your industry contacts using Lara's most effective methods, and utilize her social media strategies to take your brand to the next level. If you don't live in a fashion-capital-of-the-world, you can still use Lara's techniques to achieve your goals in a small market – and earn a big profit in doing so! Then watch as Lara implements all of her teachings in three photoshoots: The first is a collaboration shoot with fashion brand, Danielle Frankel. Second, a home studio shoot where Lara and her team create stunning images in her living room. Last, an exciting photoshoot with an Instagram influencer, Khrystyana on a Manhattan rooftop! Once you've completed the course, start your journey with Lara's 30-day challenge, post your insight and results in her Facebook group, and connect with photographers around the world who are building their businesses.
Your business techniques and marketing strategies should be as creative as your photography – if not, more! Set yourself up for success by utilizing Lara's systems, increase your opportunities, reach your longterm goals and build the business you've always wanted!
FAQ
24 Reviews
"I am 40+% done with the course. I might go as far as, this course might be the only business-related course you need to speed up your business as a fashion photographer. Furthermore, Lara knows how to keep your attention. Her teaching and course delivery is extremely effective even for people with ADHD (that is me). A must buy and implement course for anyone who wants to turn fashion photography into a business."
Sohail C.
"Lara obviously put a ton of effort into this course and it really shows. It's really amazing how much information she packed into this and it's clear, concise and she explains things in a way that makes sense. Really appreciate how she doesn't gloss over important information regarding marketing! Normally it feels like photographers hoard information yet Lara is giving us SO much. Thanks Lara!"
Ella B.
"Where are the six stars when you need them? I'm a long-time photographer but only recently decided to pursue fashion and beauty photography as a full-time gig. The wealth of information Lara offers is truly incredible. And yes, it is different than watching 100 different videos on Youtube and trying to figure things out this way. Lara is to the point, speaks clearly, and makes sure the content doesn't get boring or repetitive. Besides admiring her photography, I know also admire her skills as a scholar. Many thanks, Nils (www.nilsdecker.com) <-- Yes, always put the name out there. You don't know who's reading ;-)"
Nils D.
"I'm halfway through the course right now and I just wanna say that this is the best money I spent on photography education, Period. Lara is giving much of her own resources, tools, processes, that it almost feels like It's almost too much. Not only that but she also makes everything super smooth and easy to understand, I've been taking notes like crazy! Thank you Lara, so so much for taking the time and willing to share all of this with us. You are truly amazing and inspiring"
Natalia. N.
"I totally agree, this course is fantastic. It is very inspiring and easy to watch and listen. I would recommend every photographer to buy this course. There is so much topics Lara shares."
Miranda K.
"This course is fantastic! I'm astonished by amount of practical information shared in here and I highly recommend to any photographer working her/his way in fashion. Lara really goes in depth into the subject and gives extremely valuable insights into our business. She is also not afraid to speak about pricing - the subject that somehow nobody wants to touch upon. And it's so important to all of us to understand it properly and avoid common mistakes, like undercharging. Just recently I've pitched to the potential client and thanks to Lara's tips in this course - I've managed to estimate & negotiate the price successfully and go through the process with professional confidence."
Marta M.
"Lara is one of those rare talents that is also extremely generous with her experiences and transparent in her process. In an industry known to lack many of those elements, Lara exercises it everywhere she goes. I took her workshop two years ago in NY and it fundamentally changed how I see, how I plan/produce, and execute. This series is deeply layered with wisdom, processes, and ideas that you can remix to your own use. Every photographer, regardless if you're in fashion or not, should take this. My work, and in turn, the quality of clients, changed in just a year. I owe so much of what I know to Lara."
Paul J.
"First, Lara Jade is an outstanding photographer, her work is breathtaking. Any one that has the opportunity to participate in any of Lara's course offerings will be better for it I think. I wish this course was available when I was starting out in the industry. The amount of information and transparency Lara gives is invaluable, I highly recommend this course!!"
Keith B.
"WOW! What a course! I'm blown away at the amount of information Lara has shared! This is so helpful to know exactly what to do and how to do it. Thank you Lara and team!! I've learned so much and can't wait to put it into practice!!"
Denise M.
"This has got to be the best business course I have ever bought.. Learned so much from this, and are slowly building my business in the fashion industry, and with confidence, from all the pointers and help you get through this course.. Well worth it"
Daniel H.
"I'm always blown away by Lara's knowledge about the fashion industry and creative field and this course is no exception. Such a great course with so much valuable information, it's definitely worth purchasing! Thank you Lara :)"
Marissa A.
"One of the best value and investment I've seen lately for photography and business educational series. This is perfect for what I am needing to help starting out my business - practical tools workflows and examples are the best! Thank you Lara."
Francis N.
"I can't thank you enough for all the hard work that you do and the valuable information you are so kind enough to openly share. Watching the segments over and over again has been so valuable and contains so much information. I can't recommend you enough Lara."
Paolo A.
"I would recommend this course to everyone. Lara gives so many in this course, all the tips fashion and not only, photographer should know. And its just time saver!"
jolie z.
"Superb course on Fashion and Beauty photography. Lara Jade is phenomenal in her instruction, mentorship and no-fluff business of fashion photography course coverage. The course covers broad to specific concepts, utilizing real-world experience, a template for any photographer looking to break in and break out of the business. I can't recommend this course enough - it's well worth the investment and look forward to reaping the benefits. Kudos to Lara for being so comprehensive, honest and authentic."
Kit T.
"If you ever had a questions if you are good enough, if you charging too much or too low, how much pro earn and how much you should charge, how to send an emails, submissions, which person and mag contact, if social media marketing was a big question mark for you and any question you may have, you definitely find in this course, and if you don't find it, I am sure Lara will answer it. She is most kind and beautiful person l ever met, not just in the industry. She is not covering or hiding anything, she is really here for us to help, not for money. Thats my opinion and this course for me worth every penny!!!! Thank you Lara!"
Zuzana V.
"I am not going to lie saying that I bought this series hoping to find the solution to a few problems I was facing in my career. I am more than happy to say that not only I found some answers but it even enlightened me on some grey areas of this world. So if you are here reading through the comments and have any doubts about buying it or not, well, put those money here and BE. READY. TO. LEARN. Because it is three days I have this course and I am re-watching it again due to the load of informations it has inside."
Caterina G.
"I was one of the students at Lara's workshop in London last august. I was saying to everybody that it was the best workshop I have ever attended. So when the fashion series came up...I asked myself, what else can she bring to the table? And you did so much more ! Unbelievable. Now Im very very hapy with the bussiness series. Your are a great educator and lovely person too. Thank you so much for helping us to get there. It means hard work but there is also the light at the end of the tunel. So much information in one place! Thank you"
Katarina O.
"The course is packed with so much information, that I am still stuck at findamentals section, rewatching and making notes. Lara's dedication is autstanding, she shares openly and talks even about the smallest details of the industry, which for me -as a beginner is just priceless. Best spent money ever (along with the fashion series of course!) Thank you Lara!"
Magdalena M.
"It's so perfect. So much Information - Thank you for everything"
Esa V.
"OMG! Only got time to stuck into the business fundamentals section but already buzzing - so much good information! So many questions answered that I always wanted to know and the pricing part is so far the best! Thank you Lara!"
Agi M.
"Couldn't wait anymore to get in touch with this series of Lara, just scrolled it till the end but am totally impressed about the content. Can't wait to dive seriously into it. Thank you Lara for sharing your incredible knowledge with us."
Yolanda f.
"Just ordered this! Can. Not. Wait! If it's anything like the Fashion Series, we are in for a treat!"
Agi M.
"Got it! Can't wait to watch it :)"
Liliana S.