Outdoor and On-Location Photography: How to Create Better Portraits and Make More Money
$399
You can make a great income by creating beautiful outdoor and on-location portraits! In this course, Nikki Closser takes you along on outdoor and on-location portrait sessions with over a dozen different clients in a multitude of settings. You will learn simple strategies for capturing amazing images your clients will love to buy. Nikki also teaches you how to overcome common challenges that happen during outdoor and on-location photoshoots, as well as how to maximize your time and energy so that you will have a sustainable business. 
Included in this Bundle:
What's Included?
76 LESSONS
76 bite-sized lessons. Watch them in order or jump to what you need immediate help with and learn at your own pace on your own time.
LIFETIME ACCESS
You will receive unlimited lifetime access to this 100% exclusive content only available on The Portrait Masters.
DOWNLOADS & BONUS CONTENT
Email templates, retouching, final images, bonus videos and more!
What you'll learn:
1. HOW TO CREATE GORGEOUS OUTDOOR & ON-LOCATION IMAGES (NO STUDIO REQUIRED!)
You'll see how to capture beautiful images in a variety of settings and weather: in a rented space, in a client's home, in a field, in a parking structure, in a garage, in a driveway, in full sun, no sun, snow, in hot and windy weather, and more. You'll see the real-life challenges and how to troubleshoot them to get great shots wherever you are.
2. How To Build Your Business with Minimal Gear and Assistance
You don't need expensive lights and backdrops or even lots of assistants. Most shoots in this course are with natural light and a bounce. You'll also learn how to get creative with just one light.
3. HOW TO MAXIMIZE YOUR PROFIT EVERY TIME YOU SHOOT
You'll learn strategies for capturing a wide variety of images, such as bringing in more genres and people, to tempt your clients to buy more. ...and much, much more!
Whether you are just getting started or are ready to level up, you can have a successful business without a big investment of money into a studio, gear, or assistants. You'll get loads of ideas and practical advice for where to shoot and how to make the most of it, so that you can make a great living pursuing the career of your dreams.
"This is how I built and grew my business – with very minimal equipment and minimal people helping me, and I want to show you, you can do it as well, and you can do it while making a really great living."
-Nikki Closser
---
37:10
Shooting In Wooded Areas
1:03:35
Mother & Daughter in a Studio Share
58:34
Shooting In The City
35:15
Shooting Inside a Garage & Alley + Adding in Family
20:51
Creating Golden Hour In Snow
27:18
Photo Walk With a Client
1:14:58
DIY Backdrops & Makeshift Studio
37:41
Shooting in a Client's Home
13:23
A Shoot in a Peer Space Daily Rental
1:10:38
Wildflowers, Greenery, & Golden Hour
44:46
Pricing, Shoot to Sell, & Marketing
54:09
BONUS: Retouching
1:17:00
BONUS: 10 Tips For Building a Portrait Business
You can make a great income by creating beautiful outdoor and on-location portraits! 
In this course, Nikki Closser takes you along for sessions with over a dozen clients in a multitude of settings, including full sun, in wooded areas, a wildflower field, with overcast skies, in Peerspace rentals, using your client's home, shooting in big and small city alleys, parking structure rooftops, and even her own home, garage, and driveway. 
Whether you are folio-building or already have an established business, Nikki aims to show you how to capture a variety of great images that will increase your profits. She shows you a trick for creating golden hour even when it's cloudy, how to navigate harsh full sun, shooting specifically to encourage the sale of more photos, getting creative with locations when you don't have a studio, and much more! 
BONUS: Nikki takes you behind-the-scenes to construct your own backdrops and makeshift studio settings. She also teaches you easy Photoshop hacks that bring your images to the next level.
You may also be interested in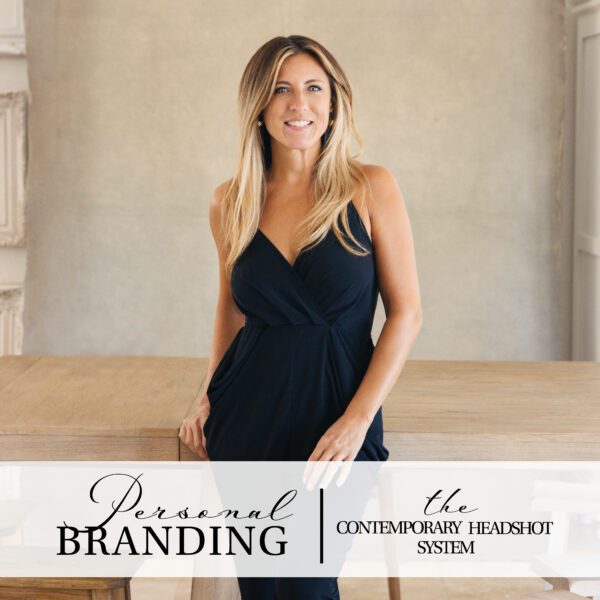 The Personal Branding System
4 Reviews
"This course really inspired me! I was starting to lean more towards just doing indoor only, but this course made me realize how much I really love both! Nikki is easy to follow along with, she keeps it simple and real. Her explanations are to the point. The interactions she has are authentic. If you're like I was about just making portraits indoors, this course really does makes you fall back in love with all the creativity that can be done outdoors/on location!! I can't wait to apply more of the information I have learned."
Judith D.
"Only half way through this course and already I've taken away so many invaluable tips. I love watching the way Nikki interacts with and directs her subjects. She has a great way of mirroring what she wants them to do, helping them to easily fall into natural looking poses. I shoot a lot of actor's headshots and editorial in environmental settings and watching Nikki's course has helped give me the confidence to do this work with a minimal gear kit and no assistant! In this course, and her "Personal Branding System", Nikki talks you through her process and considerations. She lets you know how she's reading the light and what she's noticed when she subtly makes changes to a pose or set up. I've been able to apply these little nuggets in my own personal branding and headshots work. Thoroughly recommend this course to anyone shooting personal branding or lifestyle portrait work outdoors and on location."
Aimee G.
"This course was exactly what I needed! Nikki takes you through her shoots and shares camera settings, lenses, and lighting, explaining why throughout the course. She incorporates play and movement and demonstrates many outside options. This course elevated my skills and confidence. Thank you Nikki!"
Christine H.
"This course is for EVERYONE at every level of their photography journey. The tips and tricks are functional and cost effective. Nikki shows you don't need an assistant, fancy props or expensive anything to make photographs that stand out and make a client look and feel like a million bucks. This is a must have course if you don't have a studio and think you can't make this a career. She will prove you wrong in the best way."
Teira F.