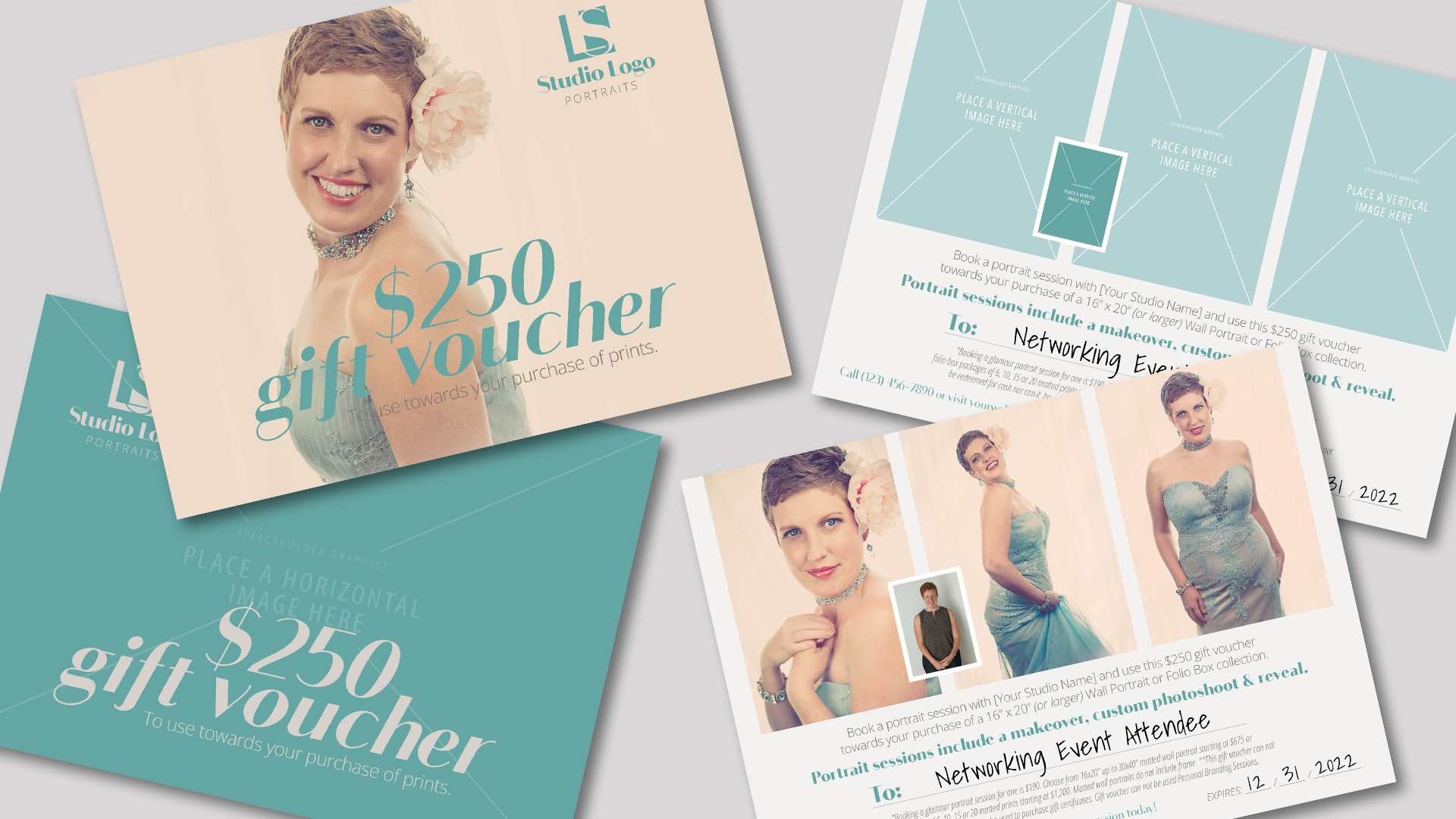 5×7 Networking Gift Voucher Template
$29
This design features a front and back design in a vertical format. Product descriptions on one side and photo placement for products on the back side.
Included in this Bundle:
5×7 Networking Gift Voucher Template
This design features fully-written text that can be customized for any networking event you are attending with space to hand write the recipient's name for a more personal touch or print in larger quantities with a "generic" attendee name to distribute at a larger event with an expiration date. Add 4 images from your favorite portrait session with a before photo of your client. The text is customizable and can be translated to any language, and you can change the monetary value and currency to fit your needs and offerings.
DOWNLOAD INCLUDES:
•  Photoshop Template: two files for both front and back of voucher  (.psd)
•  InDesign Template: one file with both front and back sides of voucher (.idml)
•  Fully written text that can be edited to any language.
*Due to copyright the fonts used in the preview of this template are not included in the download. Fonts can be purchased separately at http://www.myfonts.com
FONTS USED:
•  Bodoni Sans https://www.myfonts.com/fonts/greyscale-type/bodoni-sans/
•  Open Sans Light & Regular (this is a free font you can download from Google.com/opensansfont)
*The fonts used in the design of this and all templates are just design suggestions they are by no means a rule nor do they have to be used. However, IF you do want to use the fonts used in the templates you have to buy them separately from a font website because they are copyrighted. You can always use any fonts you have one your computer, in fact, you are encouraged to use the fonts you currently use on your logo to maintain the continuity of your brand.
RECOMMENDED PRINTERS:
1)  GotPrint.com (ships internationally) minimum orders of 100 pieces.
2)  MillersLab.com minimum orders of 25 pieces.
Design by Shauna Crane (Designfully.com)
Networking Gift Voucher Template
PRINT SIZE: 5"x7" double-sided