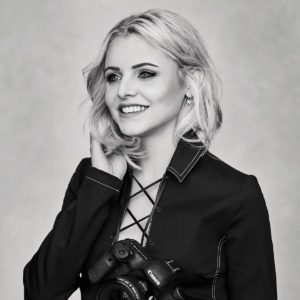 Lara Jade
Fashion Photographer
Lara Jade first picked up a camera at the early age of fourteen – influenced by self-portraiture and conceptual photography. Growing up with the rise of social media and digital techniques enabled Lara to see the bigger picture of an international industry. After graduating college she made the move to London, where she naturally felt the transition to fashion photography. A couple of years later – she embarked on her first trip to New York and never looked back.
She currently resides in Brooklyn, New York with her husband James and regularly travels for assignments, working between NY, LA and London.
Lara enjoys creating timeless and emotive imagery. She is inspired by feminine strength, unique beauty and classic style. A style that has captured the attention of many prestigious editorial and commercial clients around the globe. These clients include Sotheby's Diamonds, Air France, The May Fair Hotel, Avon, Harper's Bazaar UK, Vogue Taiwan and Grazia Italy.
Over the past 9 years Lara has been teaching fashion photography through her in-person workshops and seminars. Her online workshop 'The Fashion Series' was launched in October 2018 through The Portrait Masters and has helped many photographers find their photographic style and understand the importance of adding a fashion flair to their work.